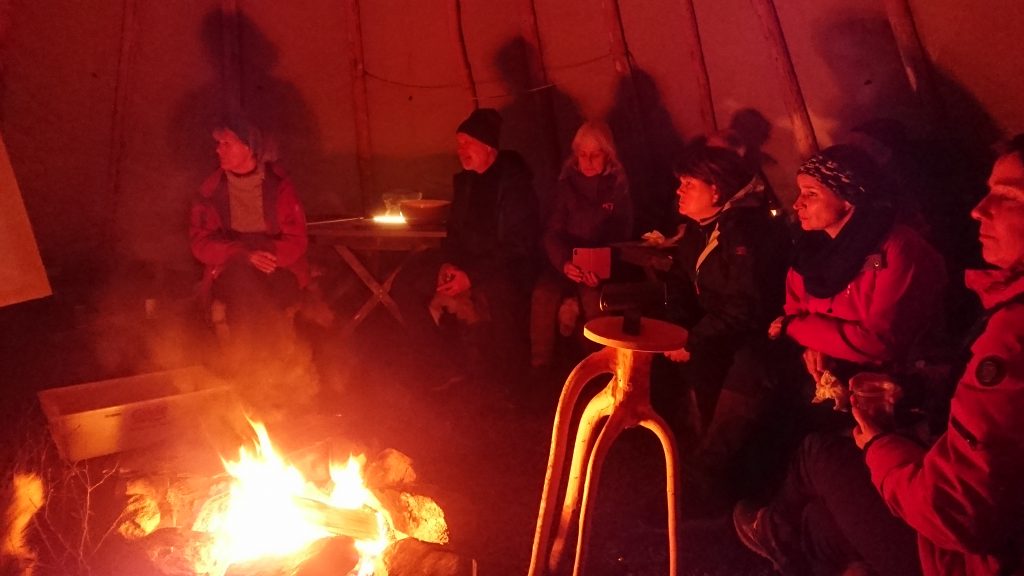 Northern Light evening
In the lavvo you will feel the magic of the bonfire and learn about the Northern light and Sami life in the lavvo. You will get a presentation and learn about the magic light. If clear sky, we will take a short hike to a point of view with very little disturbance from other light sources to look for the Northern light. You will also be told Sami stories and superstition around the phenomenon. You should not tease the Northern light, because it come and take you away. As a little child you were also taught a small verse you could say, and the light came "to life". But if you teased it to much, it could take you. We are only going to tease it a little bit…
You will be served coffee made on the bonfire and dried reindeer heart.
Sami life in the lavvo
The Sami everyday life in the lavvo and "gamme" is to many people very distant. The Sami religion and belief embraced the everyday life in lavvo and "gamme" to hunting and fishing. In the lavvo you will get to know how they made it comfortable inside, as well as some of their gods and how they hunted bears. By the fire you will see the Sami drum "runebomme" being used and learn about how it was used. We will also let you hold an old spear used to kill bears and learn the rituals of the bear hunt in the Ume Sami area. We will also let you make your own Gahkkoe (Sami bread) and serve you coffee made on the bonfire.
A unique and peaceful experience in the dark winter night.
In the Sami tradition, the Northern Light has a supernatural force that is called upon in disputes. The Sami people have symbols from the Northern Light on their cultural drums (runebomme). These opinions have existed for a long time with people living in the areas where the phenomenon is seen the most. Among the Sami people the Northern Light has many names – one of the names is Guovssahas, and that means "the light you can hear". This name came because the Sami people bound the light with sound.
Let us be Your guide to adventure!
mail: post@explorana.no
Phone: +47 464 16 205